RDTN Episode 307: Halloween, Ghosts Love Candy Too, Bruxelles 1893, Bark Avenue, Ensemble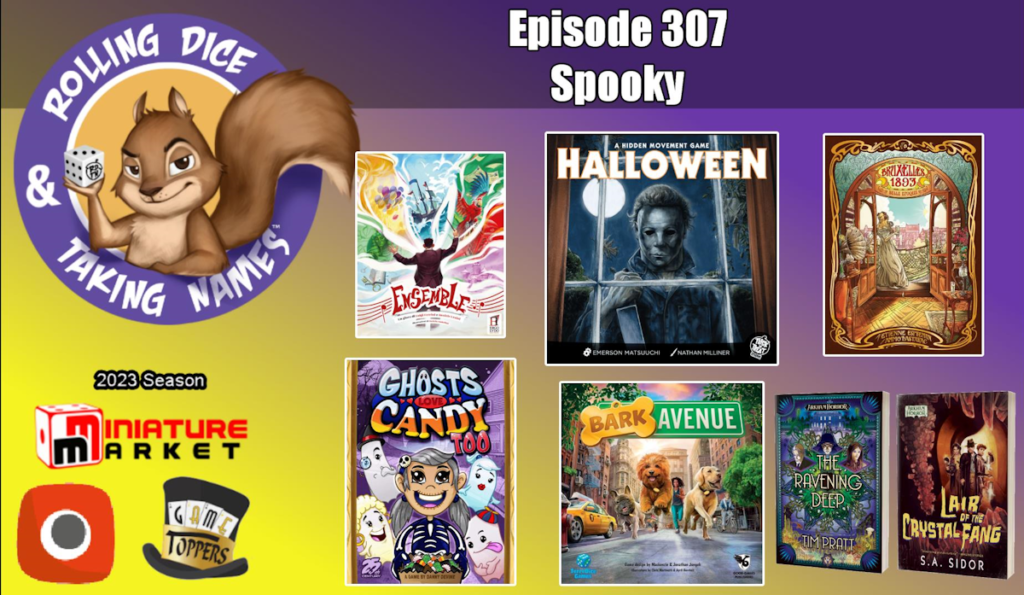 00:00:00 Game Toppers KS 4.0
00:01:50 Intro
00:03:15 BooBQ
00:07:55 Bruxelles 1893
00:11:51 Vanessa revisits Azul
00:12:17 Vanessa tries Tiger & Dragon
00:13:40 Ready Set Bet
00:16:27 Ensemble
00:21:57 Dubious
00:28:24 Coffee Chat
00:29:53 Food at BooBQ
00:31:35 Ghost Love Candy Too
00:36:13 Halloween candy from our youth
00:37:36 Tricks & Treats
00:40:50 Halloween Game
00:48:32 Taste Buds
00:51:03 Miniature Market "Rolling10"
00:52:39 Bark Avenue
00:57:14 Portal Games
00:58:12 Arkham Horror Book Reviews
01:13:49 Decorum App
01:16:05 Our TV/movie viewing
01:28:47 Outro

In this special Halloween episode, Vanessa joins Marty to discuss the big annual BooBQ event (Tony was unable to attend due to a family event). They discuss all the new and old games they played, the food they ate and the fellowship they enjoyed.
Marty and Tony review Bark Avenue, a pick up and delivery style game with a great theme.
Vanessa and Marty review a couple Arkham Horror themed books from Aconyte Books.
Finally, Vanessa and Marty discuss some TV/Movies they enjoyed plus movies they are looking forward to.
Don't forget, code Rolling10 gets your $10 all your +$75 purchase over at Miniature Market.
Podcast: Play in new window | Download (Duration: 1:29:19 — 81.8MB)
Subscribe: RSS