5 Minute Initiative, Episode, Reviews, Taste Buds
RDTN Episode 304: The White Castle, Match of the Century, Inside Job, Trickdraw, Overboss Duel, 3 Ring Circus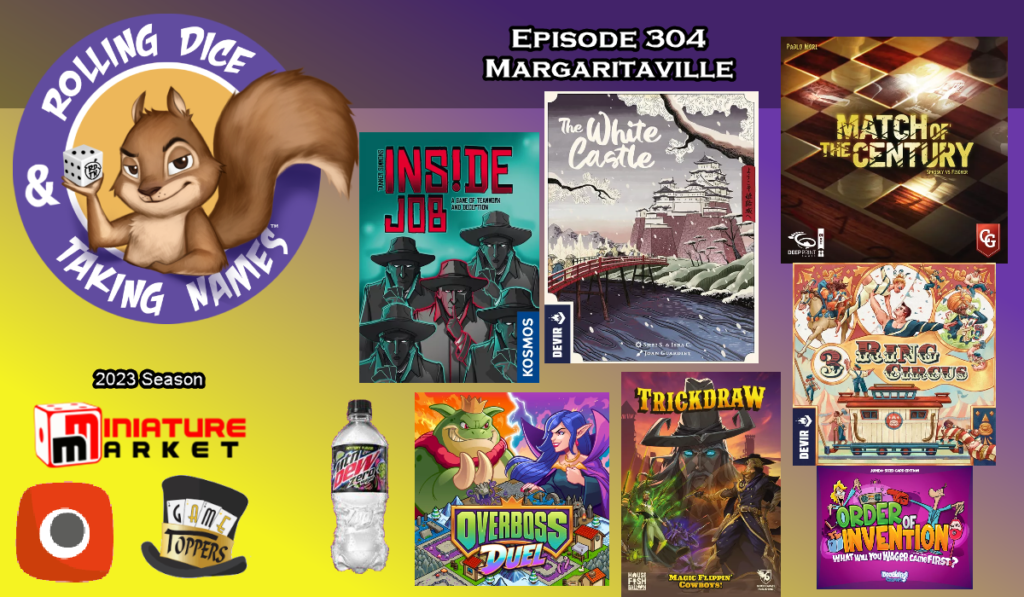 00:00:00 Intro
00:03:32 Repeat Corner
00:08:58 Sky Team with a Pilot
00:11:30 Order of Invention
00:15:30 One Piece Card Game
00:19:26 Bad Things Happen
00:22:09 3 Ring Circus
00:26:12 Sagrada Artisians
00:28:44 Overboss Duel
00:32:49 Battle Card
00:35:33 Meeple Coffee
00:38:00 Lorcana Discussion
00:42:35 This Just In – Mr. B Games
00:45:00 RDTN Experiment
00:46:09 Taste Buds
00:50:16 Sky Rockets – Floodgate
00:51:32 The White Castle
01:12:39 Portal Games
01:13:55 Trickdraw
01:18:32 Match of the Century
01:31:05 Miniature Market
01:32:30 Inside Job
01:32:32 Game Toppers LLC
01:42:15 Outro

We have a very long show, but that is what happens when you go away on vacation and you spend show time catching up on what has been happening during board game night.
Match of the Century from Capstone…solid. If you would like a new two-player game and Watergate was one that you enjoyed, then this needs a look. Hard decisions but fast game play, two things I really enjoy in a two-player game.
If you enjoy pulling of combos while playing a game and it gives you that feeling of being clever, the The White Castle from Devir might be one to add to the collection. Also, Devir production is just amazing, so solid game and top-notch production make it a no brainer for some.
And the impossible happened, I got to play a Social Deduction game that I didn't immediately poo-poo on. Check out what we have to say about Inside Job to get the full details.
Podcast: Play in new window | Download (Duration: 1:48:17 — 99.2MB)
Subscribe: RSS