RDTN Episode 296: MTG – LotR Commander, SiliconVania, Carson City, Wandering Towers, Three Worker Placement Games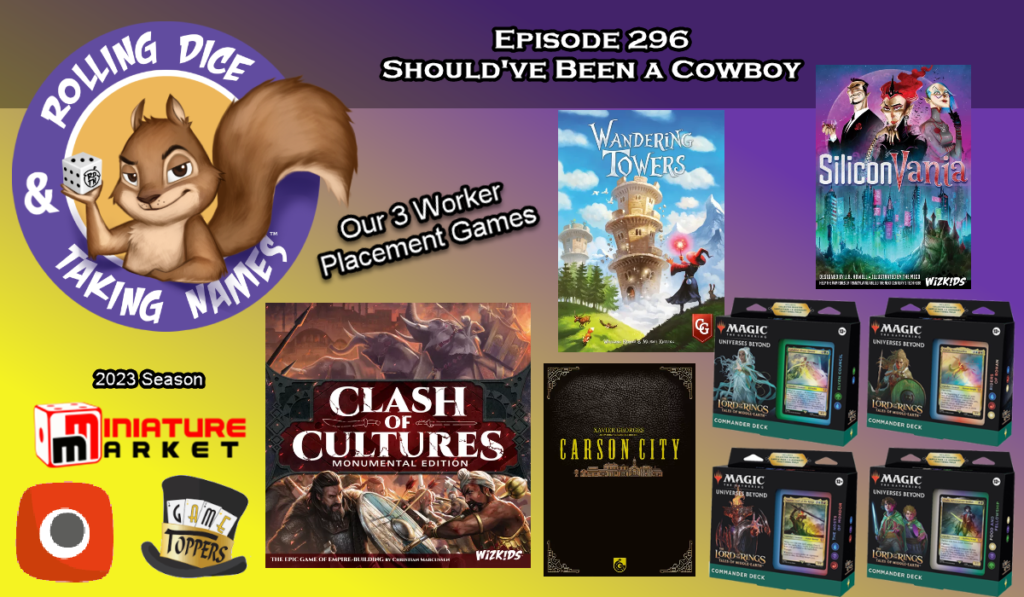 00:00:32 Intro
00:06:08 Various Cons
00:10:37 Clash of Cultures – Again
00:20:56 Carson City
00:26:52 Movie Update and Special News
00:30:14 Miniature Market
00:32:59 SiliconVania
00:42:14 Wandering Towers
00:49:22 Portal Games
00:50:56 Top Worker Placement Games
01:03:39 MTG: LOTR Commander Deck
01:22:06 Gametoppers LLC
01:23:26 Outro

It was a good thing that Marty's boys were home or this would have been one the shortest episodes. But it is for y'alls benefit because you actually get to hear a solid and well thought out review of the new Magic The Gathering: Lord of the Rings Commander Decks. This is by far superior to anything Marty and I could have pulled off.
Our schedules are just all over the place and getting some games in has been a challenge. Good thing we got a Saturday of gaming in with some classics. We spend time on Clash of Cultures, still one of Marty's favorites, and we both get to experience Carson City which finished up its Gamefound campaign recently.
Vanessa comes back to discuss a new Capstone game with Marty, so another thoughtful review.
Finally, we discuss what three worker placement games would we put on our shelves since we are starting our collection again. Keep in mind that we can't repeat from the five games that we already said would be there from our discussion in Episode 293.
Thanks for listening and only four weeks until Gen Con.
Podcast: Play in new window | Download (Duration: 1:24:58 — 77.9MB)
Subscribe: RSS