5 Minute Initiative, Episode, Reviews, Taste Buds
RDTN Episode 290: Earth, Wingspan- Asia, Votes for Women, In the Footsteps of Darwin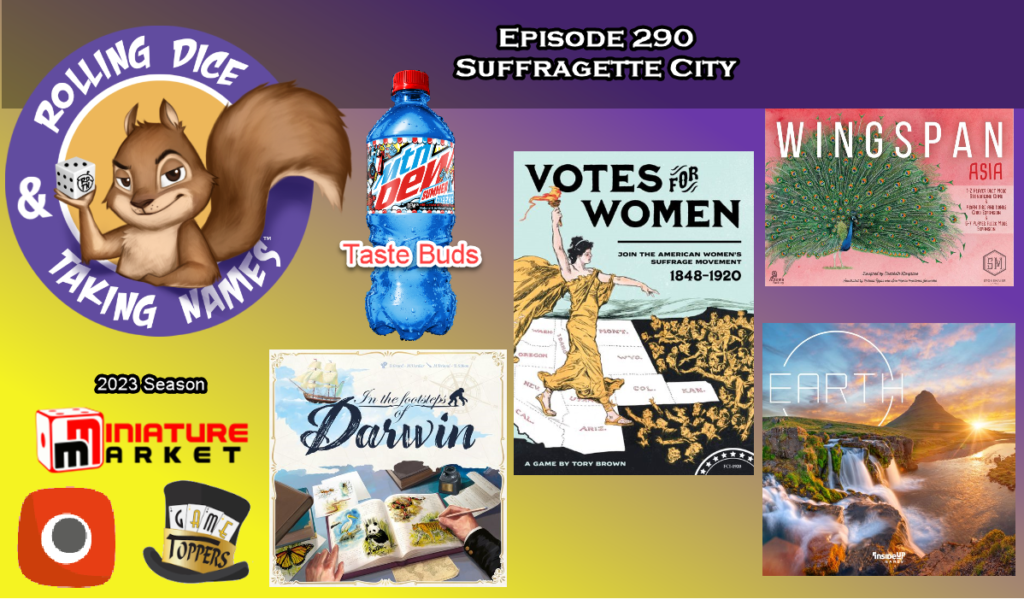 00:00:32 Intro
00:03:38 Ezra and Nehemiah
00:06:25 We need Prevagen
00:10:18 Thank You for the Votes
00:11:35 Gamegenic: Dice & Life Counters
00:14:00 Free League Publishing – Lord of the Ring 5e
00:18:18 Back to Gamegenic
00:21:17 Taste Buds
00:27:40 Gametoppers LLC (Code: RDTN15)
00:29:00 Earth
00:42:50 Wingspan: Asia
00:50:50 Miniature Market
00:52:33 Votes for Women
01:16:03 In the Footsteps of Darwin
01:22:00 Portal Games
01:24:13 Outro

Thanks to everyone who voted for us for Best Podcast over at BGG. We really appreciate the nomination but unfortunately, we didn't win. But that is okay. A big congrats to This Game is Broken for winning this year.
Earth from Inside Up found its way to the table and understand why people are talking about it. We love our engine builder games and this didn't disappoint. Wingspan is a favorite of mine and Donna's, so when I purchased up Asia, was hoping that the Duet mode would help us get it to the table more often. Why? Because, already said love the engine builders.
If there is a chance for you to get a play of In the Footsteps of Darwin, do it because you might be pleasantly surprised. This is one of those games that will fly under the radar and as a filler, it doesn't disappoint.
Finally, Votes for Women will not only educate those that play it but might even help get people to try these types of card driven map games. It is fair to assume that these games look complicated, but this is a very solid introduction to that style. Who knows, after a few plays of this game, you might convince someone to give Twilight Struggle a chance.
Podcast: Play in new window | Download (Duration: 1:29:30 — 82.0MB)
Subscribe: RSS