RDTN Episode 286: 8th Annual Squirrelly Awards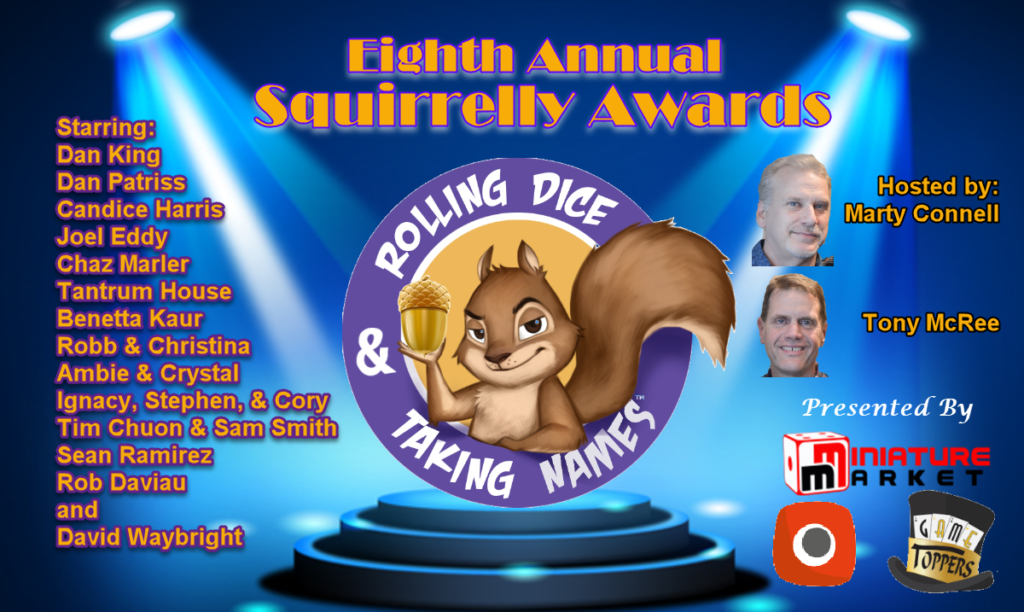 00:00:00 Intro
00:05:43 It's in the Cards
00:09:00 No Grout Required
00:11:40 Gimme More!
00:17:45 If I can't play Strike
00:23:40 Historical Game
00:28:22 "It's Alive!"
00:33:37 Game Toppers LLC (Code:RDTN15)
00:36:41 Miniature Market
00:38:25 Portal Games
00:40:17 This Game has Bling
00:43:29 Best 2022 Portal Game We Played
00:48:10 Just the Two of Us
00:52:48 Pass the Advil
00:59:00 All Y'all Award
01:02:45 Game of the Year – Tony
01:07:28 Game of the Year – Marty
01:10:30 Outro

Ladies and gentlemen, welcome to the most anticipated event of the year, the Squirelly Awards! Tonight, we gather to celebrate the very best in board games from 2022. This evening is all about recognizing the hard work, dedication, and exceptional talent of those who have made incredible contributions to our favorite hobby.
From the most outstanding designs to the most remarkable advancements in theme, components, and mechanics, we are here to honor the outstanding contributions of these individuals and teams. The Squirrelly Awards have become a symbol of excellence and recognition for those who have raised the bar and set new standards in their respective areas of expertise. Or that is what we tell ourselves.
We are honored to have some of the most talented, inspiring, and influential figures in the industry joining us tonight to celebrate these extraordinary accomplishments. So, let's sit back, relax, and prepare to be dazzled by some of the most unforgettable performances and inspiring speeches of the year. Tonight, we come together to celebrate greatness, and we hope you enjoy the show!
Podcast: Play in new window | Download (Duration: 1:12:39 — 66.6MB)
Subscribe: RSS