5 Minute Initiative, Episode, Reviews, Taste Buds
RDTN Episode 284: Hoplomachus- Victorum, Joan of Arc – Draw & Write, Gosu X, Ahoy, 7 Wonders – Edifice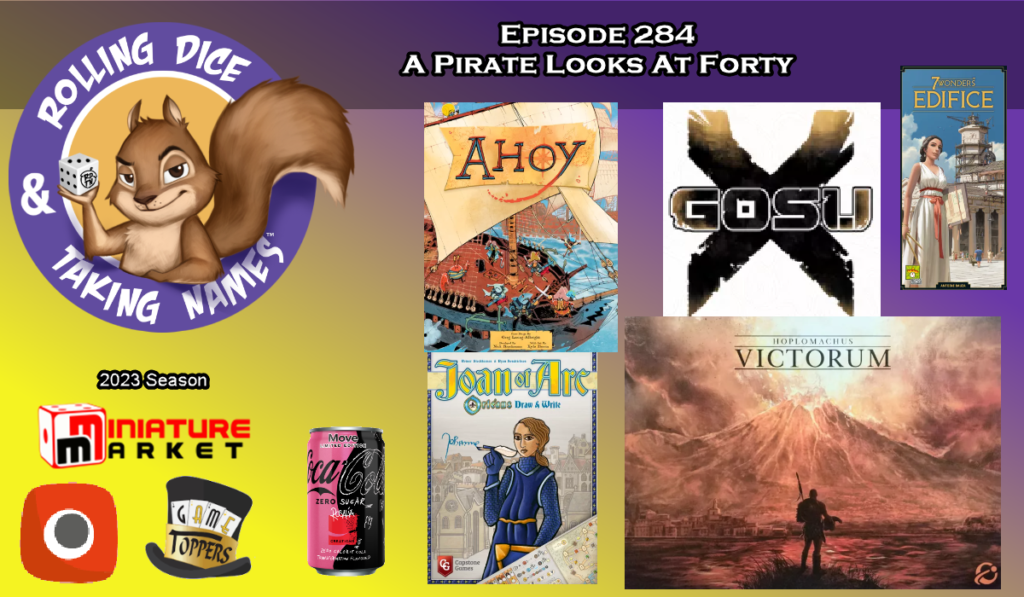 00:00:33 Intro
00:04:10 Arcane Comforts
00:07:00 Meeple Design
00:08:40 Meeple Design Affiliate Code "RDTN10%"
00:09:19 Adulting
00:13:23 Discord 500 Members
00:15:00 Postal Fun
00:18:12 7 Wonders Edifice
00:25:34 Oreo Diet
00:27:58 Taste Buds
00:33:15 Portal Games
00:35:12 Joan of Arc – Draw and Write
00:44:40 Hoplomachus: Victorum
01:09:56 Game Toppers LLC
01:11:06 Gosu X
01:21:35 Ahoy
01:35:31 Miniature Market
01:37:35 Outro

Lots of great games here and another long review but Hoplomachus: Victorum needed the discussion. When you deal with a Chip Theory Game, it is like an onion. There are so many layers and as you talk about it, you cannot help but pull them away one by one. But two things to mention in the blog, it is a solo only game and it is like all of their games, a bit pricey. But you get a lot of game and top notch quality with this. If you do solo game, then you need to see if you can get a test drive of this one.
If you are a fan of Root, then be sure to check out Ahoy. You might hear that it is a streamline version of Root, but that isn't fair. The game has asymmetric powers like Root and different win conditions like Root, but that to me is where the similarities end. To be honest, it is simpler to play and that is the strength in my opinion.
If you get the chance to play 2 player card games like Ascension or the other 1000+ games similar to it, okay maybe not that many, look into Gosu X. The style of the game was very captivating to me and one I want to keep exploring with the different decks in the box.
Joan of Arc, a different draw and write for sure and maybe if you haven't played one of these games in awhile because they were all the same, give this one a read and see if it can find a place on your shelf. It has similar mechanics, but the score sheet might be different enough to catch your attention.
Thanks for listening
Podcast: Play in new window | Download (Duration: 1:46:36 — 98.1MB)
Subscribe: RSS