Contest, Episode, Guest, Reviews
RDTN Episode 277: 10th Anniversary, Mille Fiori, Wayfarers of South Tigris, Rage, Holly Jolly, Quarto,10 Favorite Games over 10 Years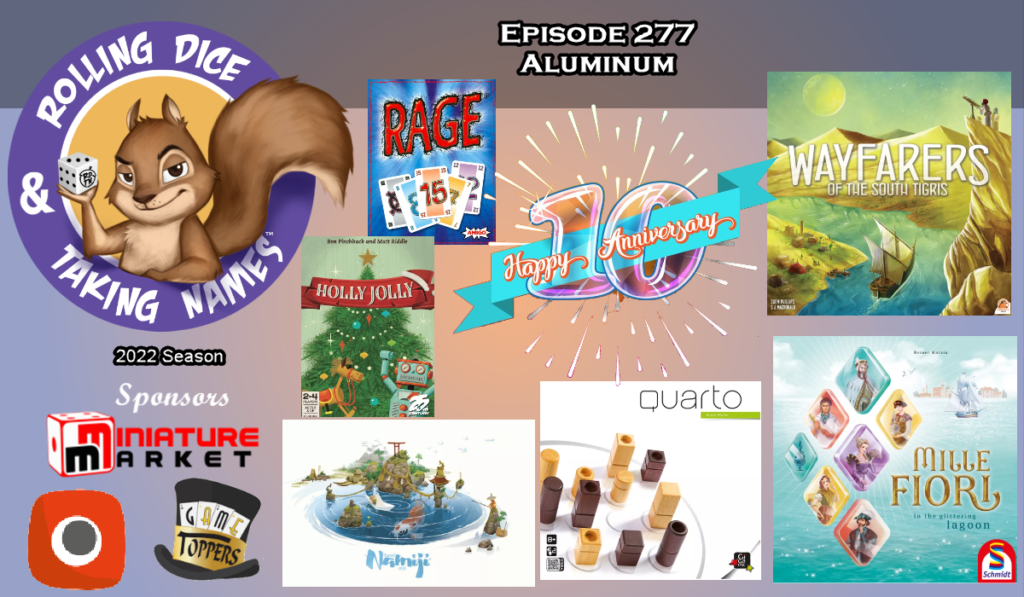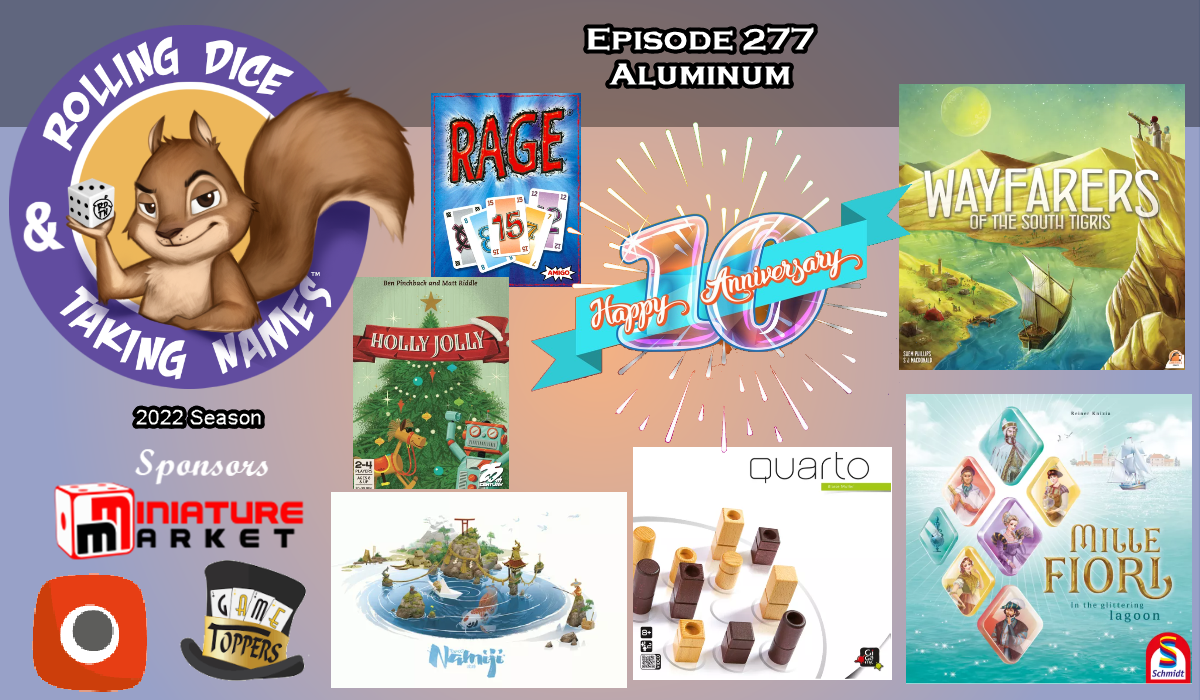 00:00:00 Intro
00:04:00 Looking back
00:37:00 CONTEST
00:42:40 Tony's Sauna Story
00:50:30 Portal Games
00:52:05 Mille Fiori
01:06:55 Our top games from 2012-2021
01:23:40 Miniature Market
01:24:50 Rage (Tony & Donna)
01:32:50 Game Toppers
01:35:00 Wayfarers of the South Tigris
01:50:05 Dungeon & Dragons Trivial Pursuit (Marty & Vanessa)
01:58:00 Holly Jolly (Marty & Vanessa)
02:04:50 Quarto (Marty & Vanessa)
02:12:22 Ultra Pro
02:14:10 Namiji
02:17:00 Guild Wars 2
02:19:00 E-Win Racing (Code: RDTN gets 30% off)
02:26:00 Outro

First, thanks to all that have made this show last for 10 years, those that listen to us. We would not be here without your feedback, appreciation, and encouragement over these years. Hard to believe that we would have thought this would have continued as long as it has, but it has, and we will continue to do this as long as people listen. Thank you.
Due to vacation and sickness, Marty and I didn't get to play games together, but I get to be on the other end of our show as a listener and I get to grill him in real-time on his review. Maybe we should do that more often so that we stay on track and get to the meat of the review. Something to consider in 2023.
Be sure to enter the giveaway because it is only open for two weeks beginning 12/27. Thanks to all the publishers that provided prizes and a huge thanks to Miniature Market and Portal Games for their support.
Hope everyone had some time to relax and play a few games over the holidays and looking forward to another incredible gaming year in 2023.
Podcast: Play in new window | Download (Duration: 2:27:01 — 134.9MB)
Subscribe: RSS