5 Minute Initiative, Episode, Reviews, Taste Buds
RDTN Episode 263: Caesar! – Seize Rome in 20 Minutes!, Kites, Pirates, Taste Buds, and Ignacy's Visit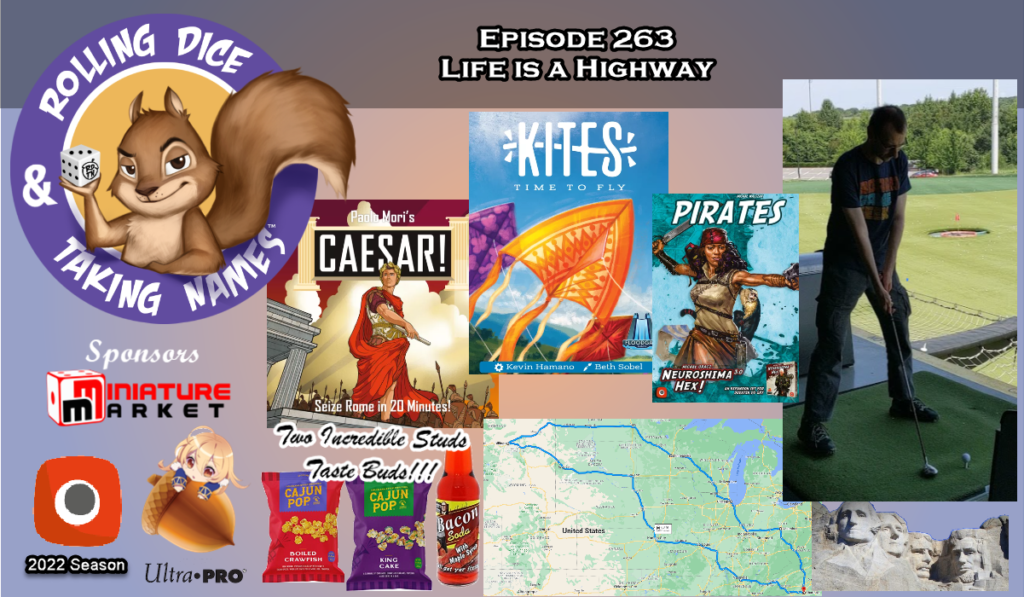 00:00:36 Intro
00:00:53 Road Trip
00:07:56 Dude, Where's My Car
00:14:06 Gen Con – Here we come
00:19:29 RDTN does Videos
00:23:13 Southern Fried Gaming Expo
00:26:10 MARTA Incident
00:28:36 Taste Buds
00:36:00 Ultra Pro
00:37:52 Caesar! Seize Rome in 20 Minutes
00:43:00 Ignacy is in the House
00:57:49 Top Golf
01:01:03 Taste of the South
01:08:22 Neuroshima Hex: Pirates
01:10:02 Portal Games
01:10:33 Kites
01:16:00 Miniature Market
01:17:51 Warcry Core Set 2.0
01:22:45 Warmachine Mk IV
01:30:09 Outro

Two games that are quick to play. One where two people get to sit there and strategize, have a little AP, and hope they are going to outwit their opponent on the very next play. That is what Caesar! gives the player, that feeling of outsmarting your opponent with that amazing play at just the right time. Kites is just frantic fun with cards and hourglasses flying about. This will get the game night going or a way to end it. Light, frantic and fun is what Kites will bring to the table.
Ignacy spent the weekend in our fair city and played games, tasted strange foods, and experienced the challenge of hitting a golf ball.
We will be at Gen Con this week and if you see us, please stop and say hello.
Podcast: Play in new window | Download (Duration: 1:33:29 — 128.5MB)
Subscribe: RSS