RDTN Episode 301: Imperial Miners, Sky Team, Disney Lorcana, Top 3 Deck Builders, CDSK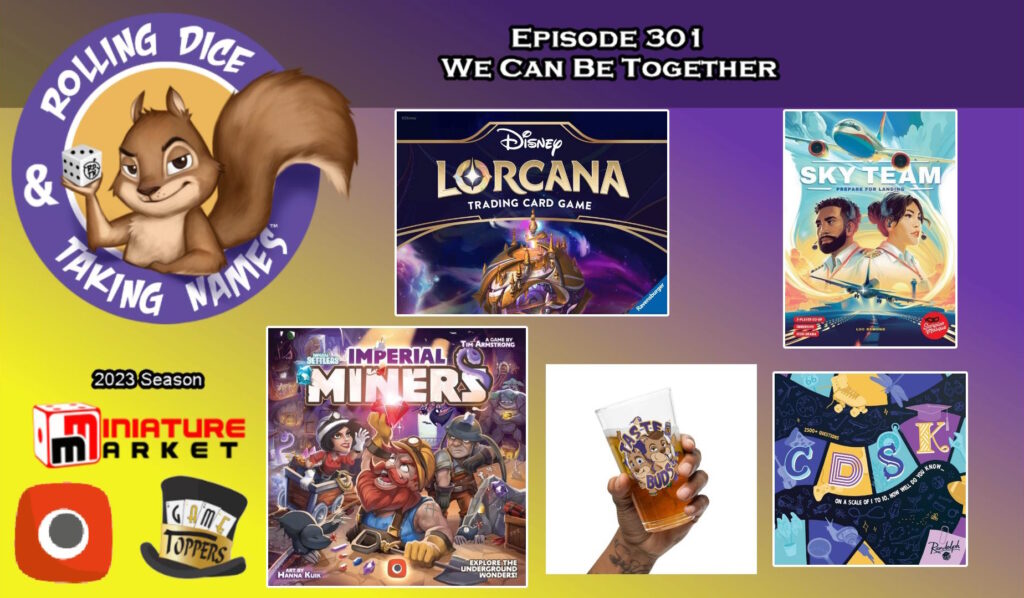 00:02:15 Gen Con Recap
00:11:00 Glitch Gear T-Shirts
00:14:50 Pirate Tails & Kiss the Goblin Ad
00:19:10 Sky Team
00:32:35 Imperial Miners
00:49:05 Miniature Market
00:51:15 CDSK
00:56:40 Top 3 Deck Building Games
01:06:35 GameToppers Ad
01:08:10 Disney Lorcana
01:29:35 Portal Games
01:32:40 Taste Buds Pint Glass
01:34:10 More RDTN Merch
Two of the most difficult games to get at Gen Con 2023 was Sky Team and Disney Lorcana. We managed to get each and will let you know what we think of the games. Then you can decide if they are for you.
Plus, Imperial Miners is now on pre-order. We got an early copy of the game and tell you all about it.
Want to get one of our new pint glasses? Listen for details!
Podcast: Play in new window | Download (Duration: 1:38:59 — 90.7MB)
Subscribe: RSS