5 Minute Initiative, Crowdfunding, Episode
RDTN Episode 270: Tiletum, Yosemite, Unlock! Kids, Neuroshima Hex – Pirates, Murder Mystery Party Case Files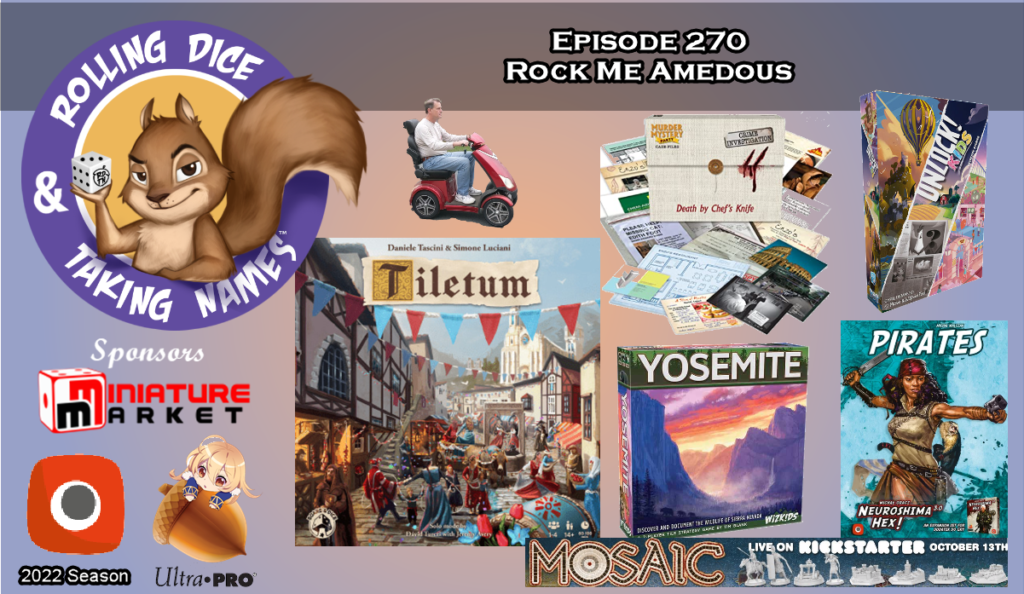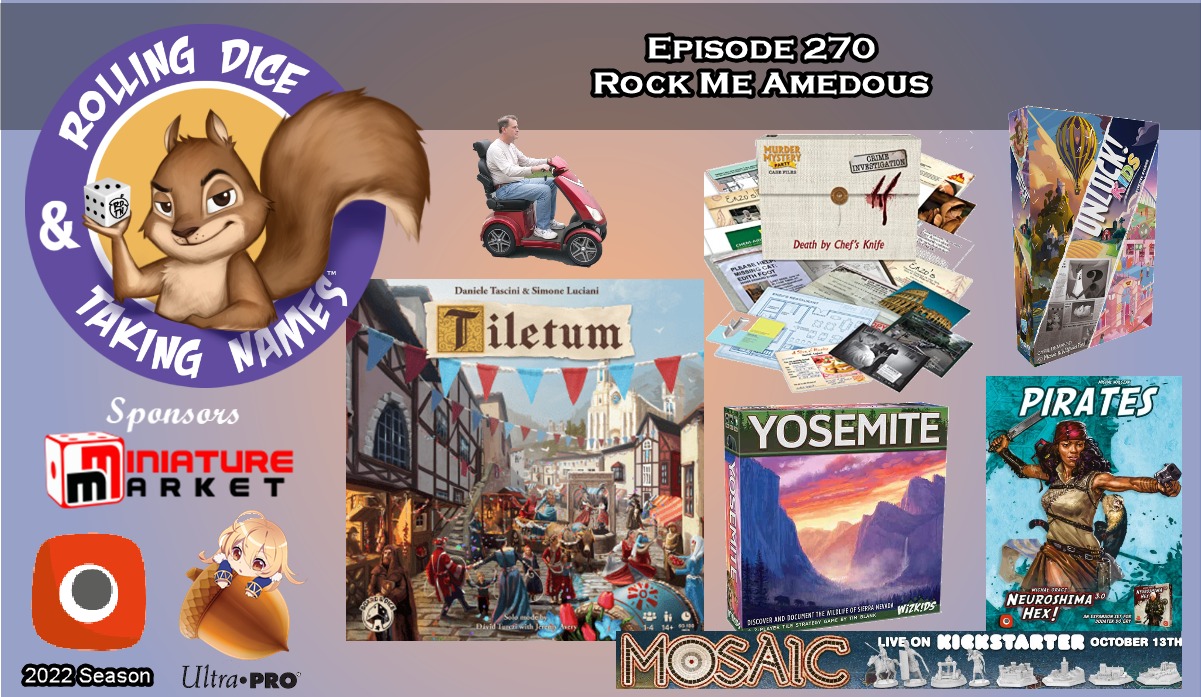 00:00:33 Intro
00:02:51 Football Shaped Food
00:05:10 Ewin Chair – Code RDTN for 30%
00:15:15 Scooter
00:17:00 Escape Room
00:21:04 DIY Garage Door Repair
00:27:08 Yosemite
00:30:42 Unlock! Kids
00:37:21 Kickstarter: Mosaic
00:41:51 Renegade Games News
00:47:25 University Games: Murder Mystery
00:52:30 Miniature Market
00:53:30 Tiletum
01:28:21 Ultra Pro
01:30:15 Neuroshima Hex: Pirates
01:38:56 Portal Games
01:40:19 Outro
Got a long discussion coming your way with Tiletum, a new game from Board & Dice. Saw this at Gen Con and was very excited to finally get to play it. The whole dice selection mechanic sold me on this game. The thought that you have to sacrifice resources to get actions or vice versa makes for a game with a considerable amount of planning and not just during the turn. You also need to be thinking about future rounds and if you should forgo this scoring round and concentrate on the next one. As with all the "T" games, this one is a thinker.
Neuroshima Hex will always be one of our favorite games. When a new faction comes out, like Pirates, we really look forward to seeing what twist Portal Games has in store for players. This time, the HQ moves around the outer edge along with some units. Not that this become 3D chess, but it does require a new thought processes and planning ahead as the player who is trying to hit the Pirate HQ base. If you still get Neuroshima on the table, this faction should be considered to be added to your set.
We have some lighter games as well in this show, so be sure to give them a listen, especially the Unlock! Kids. Very enjoyable, even for us older players and so nice to not need some sort of app to play.
Podcast: Play in new window | Download (Duration: 1:52:23 — 103.0MB)
Subscribe: RSS