RDTN Episode 256: Crescent Moon, Batman – Everybody Lies, Resist, Galaxy Trucker, Arnak Expedition Leaders, Ultra Pro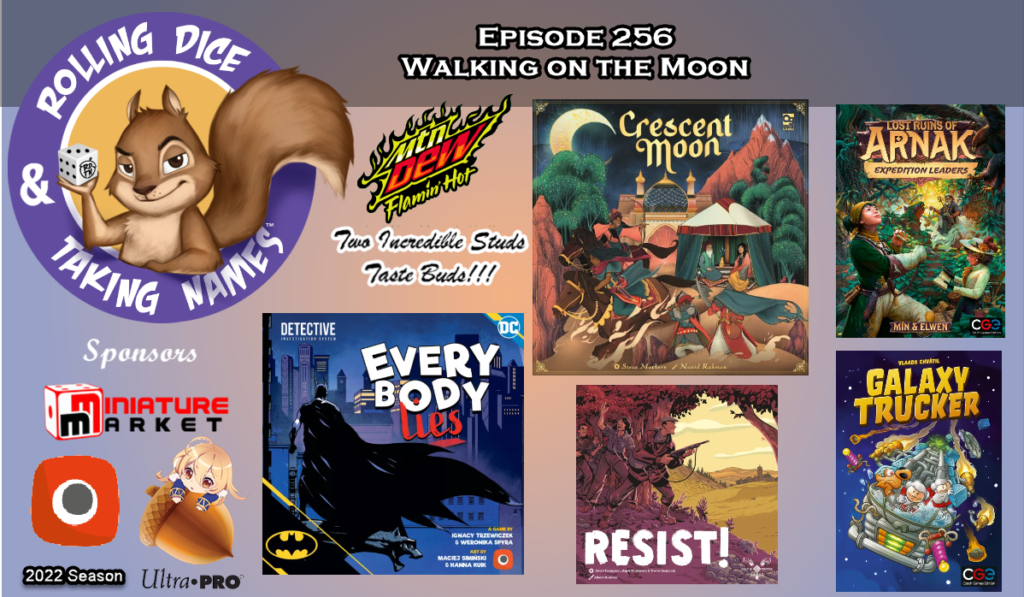 Ultra Pro is in the house!!! That is right, we are lucky enough to be partnering with Ultra Pro to bring to your attention some of their items that you might have missed. Marty and I have used Ultra Pro products for a long time because of your baseball card collecting so we are pretty confident when we talk about the quality of the products. Some of my sleeves are as old as my daughter. Then, personally, I only used Ultra Pro sleeves for my LOTR TCG cards because of their colors. Those were the ones that stood out to me. Anyway, be sure to head over to their website to check out their stuff.
Crescent Moon is one of those games where it can be intimidating at first. Be like, not going to understand this, not understanding the factions, not sure how to wind and so on. But once you start playing, it will just wash over you like a gentle wave. If you are like me, it will have repeated "Oh, that is how that works" moments and be good to go. One thing we didn't mention in the review that I think is important is that I believe it will be one of those games that I can quickly pick up and remember when it hits the table again.
For Lost Ruins of Arnak, I was not as in love with it as Marty, but had you put the Leaders with it from the start, then yeah, I would have been all over it. If you haven't gotten the expansion yet, you need to because individual powers make the game. Galaxy Trucker is just fun, still makes me smile and while I play it on the iPad, I like it more in person.
Everybody Lies is the Detective game that I have been looking for. I don't need the complication of moving around and timing, keep it simple and let me concentrate on the story. Also, make it so I care about the story by engaging the listeners as you play. Some are not going to enjoy some of the elements being removed from the original Detective, but for me, it works well.
See everyone in two weeks and thanks for listening.
Podcast: Play in new window | Download (Duration: 2:04:53 — 94.6MB)
Subscribe: RSS