RDTN Episode 248: Undaunted Reinforcements, Final Girl, That Time You Killed Me, Mt. Dew Spark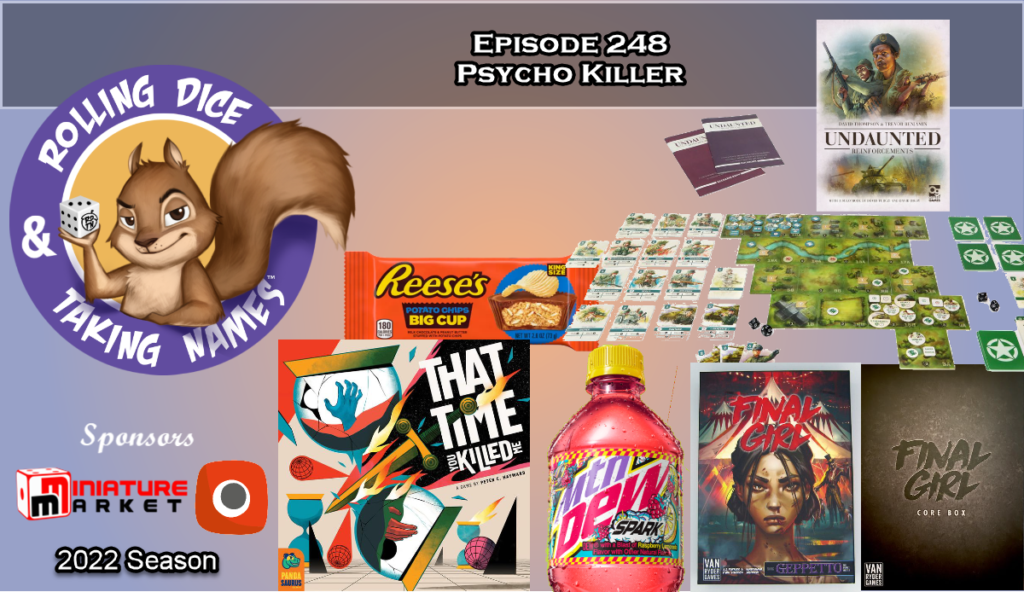 Episode 248 coming at you with a a new Taste Buds that just doesn't feature a drink. We try Reese's with potato chips in them. Okay, I remember the original commercials for Reese's. Two people run into each other and get chocolate in peanut butter and argue. First off, who walks around with an open jar of peanut butter. Now we got someone with a Reese's Cup walking into someone with a back of chips maybe? Anyway, we give you are thoughts on it and even Vanessa gets into the act.
Final Girl is a new solo game from Van Ryder Games. Talk about production and thinking stuff through, this game has that. And on top of it, it is a fun game. Enjoy the dice, the card mechanics, the interchangeability, and the fact it is tough. Unfortunately, sold out in most places but sure they will get more soon. Or go out and join their Series 2 Kickstarter that is fully funded.
Undaunted is one of our favorite series. And we are so excited about the ability to play four players with the new expansion Reinforcements. The mechanic of these games never gets old because, for me, that isn't what makes this game great. It is the strategy and suspense that can accompany a well played game between opponents. We know it is there, but Marty just needs to find the opponent that provides that challenge. More than anything, It is a Thompson.
Then Vanessa explains to Marty on multiple levels about That Time You Killed Me. That lady could sell used cars. I want to go out and get this game. Anyway, even if the game isn't something you would like, guarantee that the dynamic between those two will provide you listening enjoyment.
Thanks for listening, we really do appreciate it. Pay attention to your email, you might be the lucky winner of an RDTN prize pack from Anniversary Episode. Notifications going out soon.
Podcast: Play in new window | Download (Duration: 1:24:43 — 61.1MB)
Subscribe: RSS