Crowdfunding, Episode, Reviews
RDTN Episode 247: Tabannusi, 7 Wonders Architect, The Hunger, Dom Pierre, Night at the Movies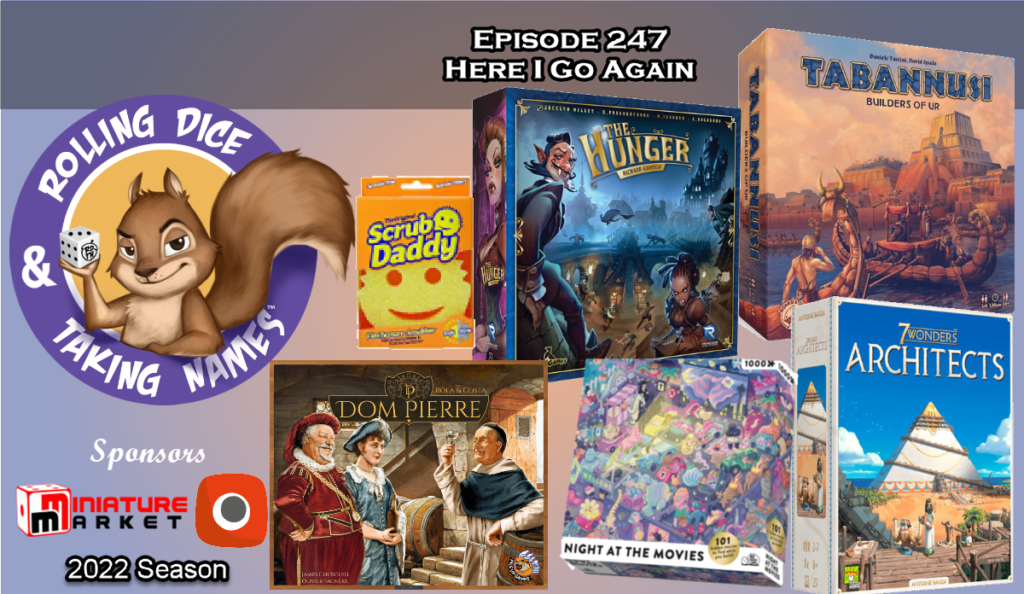 We are back for another year. Thank you for all those that have been with us at the start and thanks to everyone who gave us a try and are still here. We are beginning Season 10, that is just hard to imagine. Chaz Marler asked me once what I hoped to accomplish with this podcast and I told him, I hope to make it to our tenth year. Goal achieved. Time for a new goal, so will need to think about that during the year.
So how are we starting off the year? We talk about Tabannusi, 7 Wonders Architect, The Hunger, Dom Pierre, and Night at the Movies Puzzle. Tabannusi is one of those games where you need to play it and pull the levers on the first play. Don't worry about winning, just understand how the game works and work with your friends to figure it out. While the scoring it pretty straight forward, it might take once or twice before it all clicks. Then there is the dice selection mechanic that causes you to plan well in advance and also to have a Plan B because there is a good chance it may not work out. If you like the meaty games, then sink your teeth into this one.
7 Wonders Architect is a very light game and it plays very fast. If you are a hardcore fan of 7 Wonders, then you may not enjoy this one as much. I appreciate it for the speed of play and just the overall fun of the game. Marty got to play The Hunger without me and he really liked it and I really want to try it. He sold the game to me with Deck Building, but then he sealed the deal once he talked about only one resource in the game. Looking forward to playing that with him.
We talk about the survey and appreciate all the positive comments received and we definitely will embrace the comments on ways to improve. Even though this is the 10th season, we know there is always ways to improve.
Hope your 2022 is starting off safe and well
Podcast: Play in new window | Download (Duration: 1:34:26 — 66.9MB)
Subscribe: RSS