Contest, Episode, Reviews, Switch Games
RDTN Episode 246: 9th Anniversary, LOTR TCG, Soldiers in Postmen's Uniforms, Lanzerath Ridge, Cape May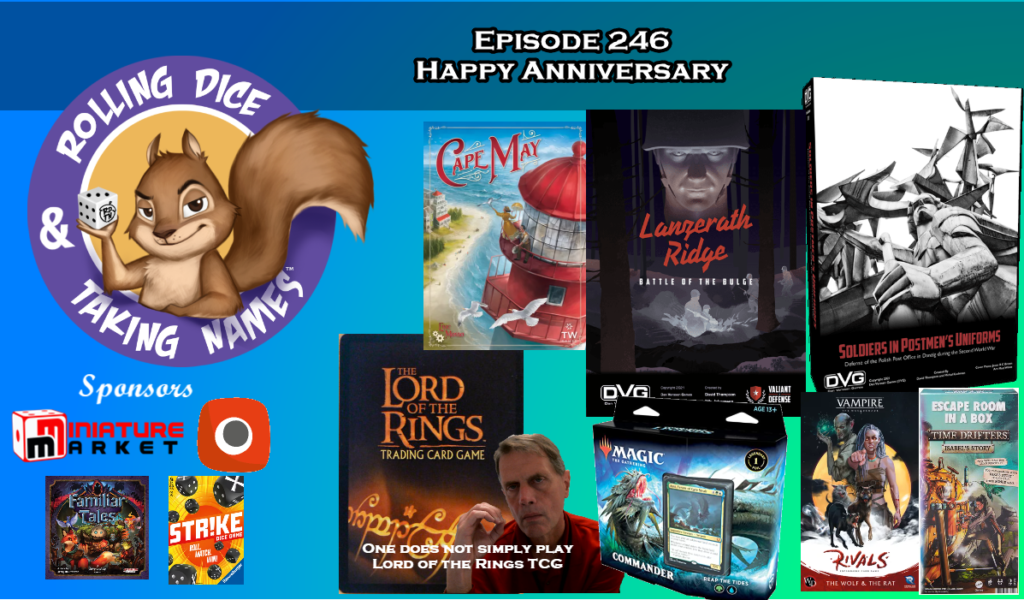 Nine years ago and this podcast was created. Nine years ago, we had some vacation to kill and it seemed like a good idea. Nine years ago, we have been creating some the best background noise in the business. But in all seriousness, thank you for the support for those years. Thank you for commenting, interacting, saying Hey, and just sending in the kind emails. We really do appreciate it.
Twenty years ago, we played our first trading card game or collectible card game. It had us at the smell when we opened those packs. Marty said best when he stated this is what a rainbow would smell like if they could smell. Lord of the Ring: TCG had us all in until it got to be too much. Well, we opened up our first starter decks in over 18 years and played. Now you get to hear all about it.
David Thompson is one our favorite designers. We enjoy the ease of his games, but the depth of the strategy behind them. If you haven't experience one of his designs published by DVG, consider giving them a shot or at least download the app. He has a new one going to Kickstarter in the coming months and Marty will talk about and might peak your interest.
Be sure and go to the survey and give us some of our yearly feedback. We read every comment, so thanks in advance.
Podcast: Play in new window | Download (Duration: 2:11:58 — 119.2MB)
Subscribe: RSS