RDTN Episode 241: Dreadful Circus, Land vs Sea, Dune, Night of the Ninja, Ghosts of Saltmarsh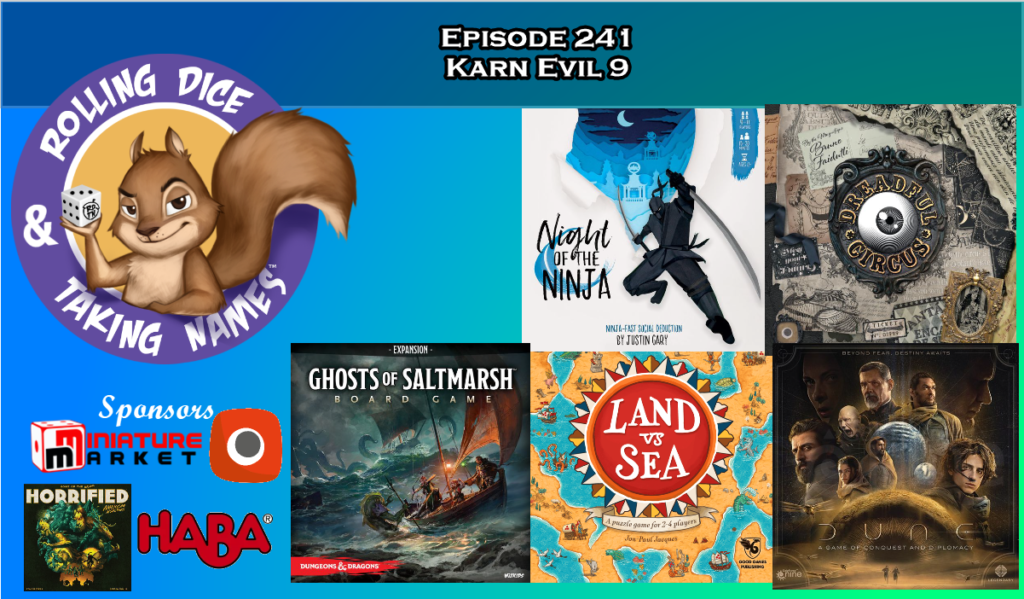 This is going to be a short blog for this episode, it is late. We played some good games, we talk about them, and then Vanessa joins Marty to talk about a game. Also, there is a taste test and music talk. Just like any other RDTN show.
Fine, the new implementation of Dune, I heard, was very streamlined and it was that. We got the game in with a teach in under two hours. There has to be more strategy to the game than we encountered, so it needs to hit the table again to discovery where the gems are for this quicker version. Land vs Sea was good, really good if you enjoy the tile type games. Having tiles where you have to choose which side to use was something new.
Vanessa and Marty sound like they enjoyed the new expansion to D&D Ravenloft so if you have that game still on the shelf and want to maybe give it some more love or maybe it has never been forgotten, now you got something new to play.
Dreadful Circus was the surprise for this show. I am not one to get into negotiation games, but this one was different. It was a blast. There was enough hidden knowledge, enough table talk without it dragging on, that this game was just fun. Well done Ignacy for picking this one up, we are proud of you.
Thanks for listening and come back again where maybe I can keep our banter under 15 minutes
Podcast: Play in new window | Download (Duration: 1:31:16 — 85.3MB)
Subscribe: RSS
---