5 Minute Initiative, Episode, Reviews
RDTN Episode 302: General Orders WWII, Cosmoctopus, Dogfight!, RoboRally, Rome in a Day, Scope U-Boot, Ashes: Red Rains, Tiger & Dragon, Romi Rami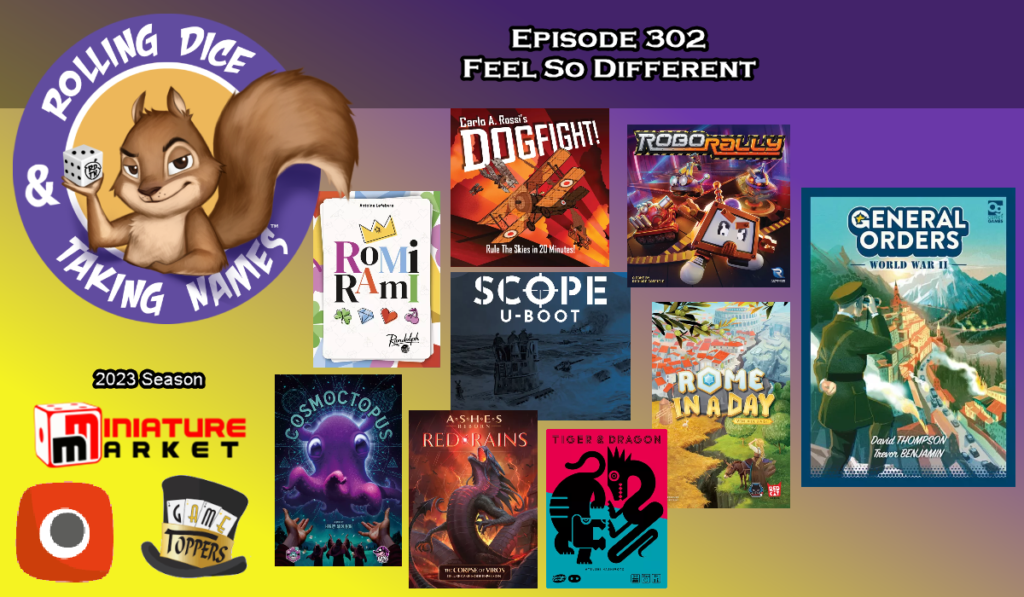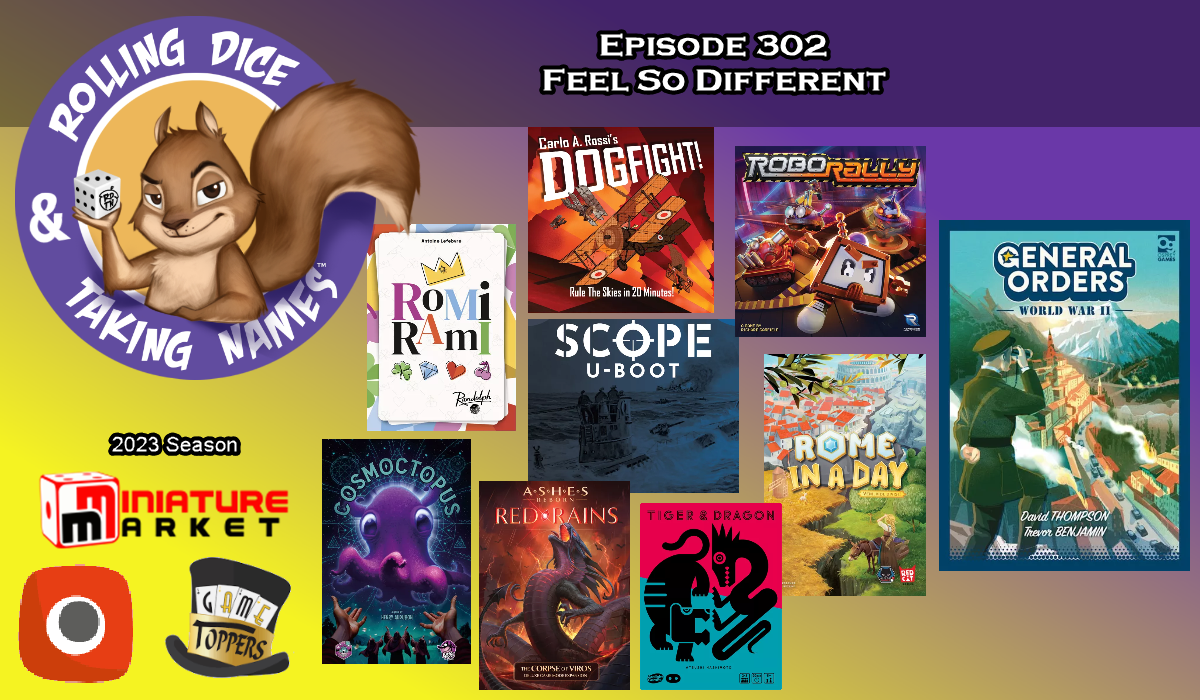 00:00:00 Intro
00:06:15 All Blown Up Sir
00:08:56 E-Win Game Chair
00:16:20 Repeat Corner
00:21:25 Portal Games
00:22:38 General Orders WWII
00:35:12 Miniature Market
00:36:28 Five Minute Begins Now
00:37:15 Robo Rally (5MI)
00:43:32 Dogfight (5MI)
00:49:48 Rome in a Day (5MI)
00:54:33 Romi Rami (5MI)
00:59:12 Cosmotopus (5MI)
01:05:02 Tiger & Dragon (5MI)
01:10:23 Scope U Boot (5MI)
01:16:31 Ashes Red Rains (5MI)
01:21:53 Game Toppers LLC
01:24:34 Outro

Probably one of the best intros ever for this show and it wasn't by Marty and me. Here is the text that was given to Vanessa to read:
Hey ya'll
In this episode the guys tell us about General Orders. Plus 8, yes 8, 5 minute initiatives covering some of the hot new games they have recently played
See, it wasn't easy and if you just did a straight read, it could be confusing because normally he will list the games out.
Talking about games, we have a bunch in this episode, and you are so welcomed for us making them 5 Minute Initiates because we saved you almost two hours had they been the normal length. Always looking at ways to give back, yes we are. Then we have the solo review by Marty.
Thanks for listening and here is the link to E-Win and don't forget the code RDTN to get 30% off
Podcast: Play in new window | Download (Duration: 1:27:24 — 80.0MB)
Subscribe: RSS