RDTN Episode 274: Fire & Stone – Siege of Vienna 1683, Brazil – Imperial, Monolyth, Star Wars – The Clone Wars, Oh My Brain, Atlantic Robot League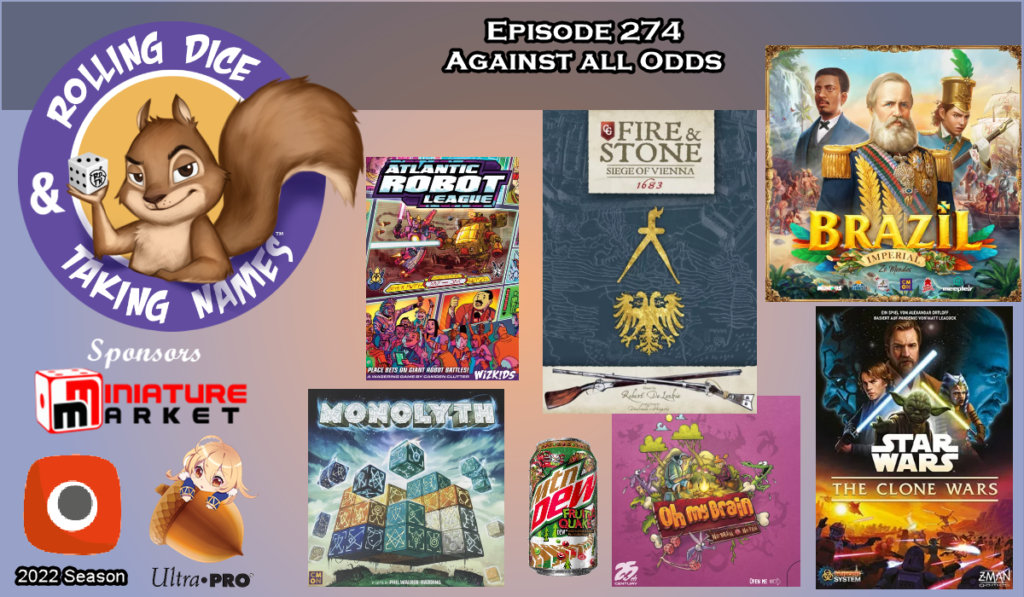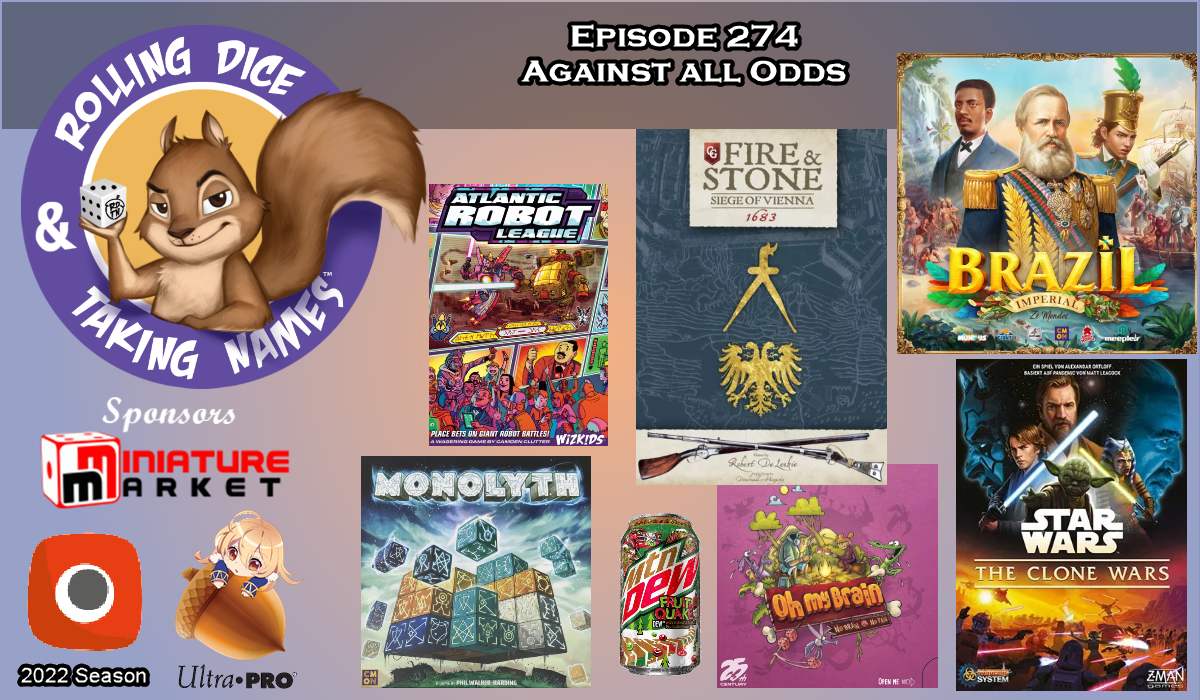 00:00:30 Intro
00:08:02 Arkham Horror Campaign
00:11:00 Atlantic Robot League
00:15:24 Oh My Brain
00:20:52 Ewin Racing Chair
00:24:35 Toy Strong Hall of Fame Winners
00:26:42 Taste Buds: Fruit Quack
00:31:13 Star Wars: The Clone Wars
00:47:23 Miniature Market
00:48:51 Game Toppers
00:49:23 Brazil: Imperial
01:03:52 Monolyth
01:09:28 Portal Games
01:11:28 Fire & Stone: Siege of Vienna 1683
01:23:33 Ultra Pro
01:25:09 Switch Time
01:31:01 Kevin Conroy
01:34:10 Outro

What better way to celebrate Turkey Day in the US than with a bunch of turkeys, us!!
Two player war style games have found a place in Marty's heart and we got to play the new one from Capstone called Fire & Stone: Siege of Vienna 1683. We really do enjoy this card driven games where part of the challenge is deciding if a card needs to be used for its special event or as an action. Another item about this game is that you are not moving a bunch of pieces around the board, so the game doesn't get bogged down in that aspect. Card strategy is definitely the driver for this game.
We have talked about Brazil Imperial before on the show and we finally got a copy to play with our local group. The game mechanics of a single action each turn require you to plan ahead and think where you need to be in the next three or four turns. While interacting with other players may not be as involved as with other games, you need to watch their actions because it can mess you up if not careful. It was good back when we played at Gen Con and it is still solid when we played it recently.
Pandemic has always been a favorite of mine. When they stick an IP on the mechanics, I am a bit skeptical of what might be in the box. With Star Wars – The Clone Wars, I am very happy with what came out and hit the table. They have made some very interesting changes to the game so that while it has the Pandemic feel, it isn't the same game which is great. If you like the Star Wars universe and need to rid the galaxy of droids, then give this one a shot.
Be sure to check out our Ewin promotion because you will not get a better discount on their chairs and desks. We have had ours for a few years and so impressed we have upgraded to the cloth chairs. Not because we had to, just because our family claimed them.
Thanks for listening and get ready for the 10th Year celebration in a few more episodes
Podcast: Play in new window | Download (Duration: 1:39:41 — 91.4MB)
Subscribe: RSS